Recovery from Chronic Pain
Chronic pain can be relentless and if after seeing your GP or consultant they have ruled out all options of disease/illness this can be particularly frustrating.  Chronic pain can include migraine, IBS, joint pain, muscle pain, back pain and many other.  It can be continual or intermittent – and finding the underlying cause is the journey of discovery which enables recovery and freedom from pain.
Our bodies main purpose is to keep us save and survival is instinctive – hence the importance of acknowledging the link between physical and neurological connection.  "Healing the mind and body" by Dr John Sarno M.D and/or "They can't find anything wrong" by Dr David D.Clarke MD offer vital information and an insight into awareness and the start of recovery.
SIRPA™ (Stress Illness Recovery Practitioners' Association) was developed in early 2010 by UK Chartered Physiotherapist, Georgie Oldfield.
Georgie had come across the pioneering work of John E Sarno MD in early 2007 after spending years trying to answer all the inconsistencies she was regularly noticing between the symptoms her patients presented with and their diagnoses. Reading Dr Sarno's first book about the condition he called, Tension Myoneural Syndrome (TMS), produced an epiphany moment for Georgie as everything fell into place and she realised she now had an answer to all her questions.
As a Sirpa Recovery Practioner 1 with SIRPA™, we offer the following pathways:
1:1 Consultation 90 or 120mins – with a pre-assessment form to be completed
1:1 Recovery pathways (minimum 10 sessions)
Group Workshops
online recovery programme – with SIRPA™ Online Recovery Programme
You can complete the form below to receive a leaflet for additional information or click to book a 20-minute free discovery call to take your first StepForward to recovery.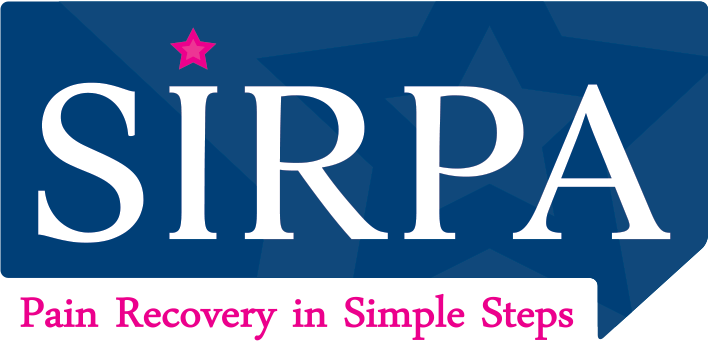 Looking for a gift idea and not sure what to get?
How about a Wellness Token towards our Foundation to Self-Care group Workshops? It's the Gift that keeps on giving.