Each session is 1 hour and they are available to attend on zoom or in-person.
The location for in-person is SOS Osteopath and Wellness Clinic, Southwick, Sussex.
There is an option to pay for each session individually £20 or if booking 4 in advance they are £65.00
Each session will have a different theme and will include the impact of chronic fatigue and/or pain, foggy brain, low mood, isolation and anxiety, fear and a lot more
The objective is to have access to group wellness coaching sessions as part of your self care tools
You are not asked to share anything personal
Benefits of these sessions include: flexibility, choice and active understanding and participation so you can see the benefits for yourself.
Wellness tokens are available to purchase as a gift for someone special see link: Buy a Wellness Token
When attending your first session the payment is only £5 (payment is confirm your booking before attendance)
To confirm your space payment is required to receive zoom details or confirmation of in-person attendance.
If you are unable to attend the live session you can request a copy of the recorded session
email beverley@stepforwardpractice.co.uk for enquiries and booking assistance
Are you feeling overwhelmed, anxious, stressed, lethargic or so busy you never find time for yourself?
Want to find a way to change this and feel more relaxed and remove your mask and be yourself?
Have you considered coaching but not really sure what it involves?
By taking part in this Group Coaching Workshop you will be able to take a snapshot of your own life and start discovering what you really want and how to change it….. one Step at a time.
Are you looking to make changes in your life and feel overwhelmed about what Self-Care actually is?
Have you found that you have had therapy before but finding yourself slipping backwards?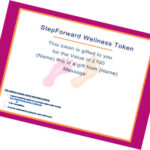 Wellness Tokens are available to purchase as a gift for someone special – or an employee wellness benefit.  To find out more you can purchase your wellness token here 
Are you a professional looking for an interactive workshop, which enables you to refresh your own self-care and gain a certificate of attendance for CPD?
During this interactive live workshop, we will take a look at your values and understand how we can use them to understand your own boundaries. This will also give you an understanding or an opportunity to revisit your own understanding of what you currently have in place and where you can make a small change to see and feel a difference.
Looking for a gift idea and not sure what to get?
How about a Wellness Token towards our Foundation to Self-Care group Workshops? It's the Gift that keeps on giving.